The demand for AV systems is increasing at an incredible rate, with advancements in technology enabling them to do more than ever before. With the help of audiovisual systems, which include collaboration tools, video conferencing capabilities and wall signage, it's never been easier for businesses to share their content and ideas with employees and potential customers. Let's take a closer look at three benefits of AV system design.
1. It enhances sound quality for a better customer/client experience
Many businesses rely on quality audio during conferences, meetings and events, but basic audio setups aren't enough. An enterprise audio solution allows companies to implement crystal-clear audio options to address a variety of communication needs, including pendant and in-ceiling speakers, microphones and amplifiers to ensure all messages are conveyed and heard clearly. With expert audiovisual system design, enterprise audio can be fitted anywhere, from auditoriums to conference rooms, to ensure your customers, clients and staff have a satisfactory experience.
2. It improves communication and collaboration between employees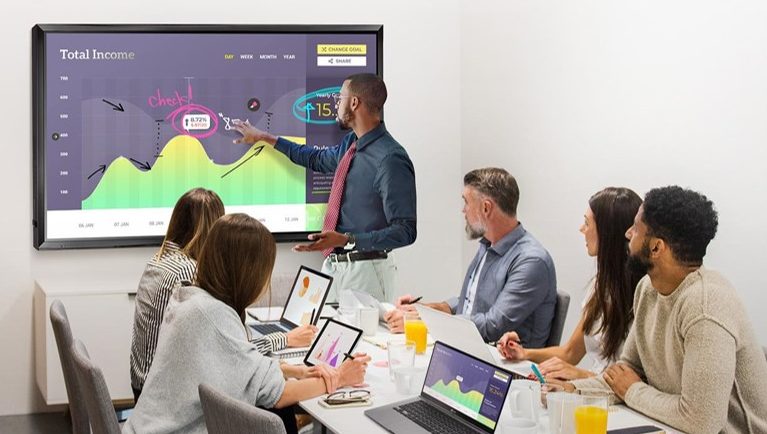 An interactive digital board with a built-in touch display is a great tool for collaborating during meetings and saving content. Users can write over PowerPoint presentations and website pages. The built-in touch feature allows people to use their fingers to scroll through a website displayed on the digital board without having to be locked down at their laptop in order to control what is seen. Lastly, this kind of smart board can be drawn on like a white board without the need to use markers, which always seem to be missing or drying up. An array of drawing colors is available to choose from and you can pick if you want a white or black background to make written content most visually appealing. An interactive digital board eliminates the awkward moment during meetings when attendees will want to photograph content written down on a white board in order to save the information for later use. With an interactive digital board, content can be saved and shared to all the meeting guests and those who were not able to attend. This helps ensure an easy flow to meetings without the distraction or interruption of picture taking or waiting on people to write down the content for their own record keeping.
3. It helps to promote your company
Video walls and digital signage are key components of audiovisual system design. As dynamic marketing tools, these solutions are proven to engage customers and will stay in the memory of customers and clients much longer than static signage. They can be used for:
Promoting products or services, like cars or new building developments, in retail spaces and malls
Displaying interactive menus in restaurants and bars
Listing room schedules, itineraries and directions during conferences and events
Promoting products to passersby on public streets
Relaying information during presentations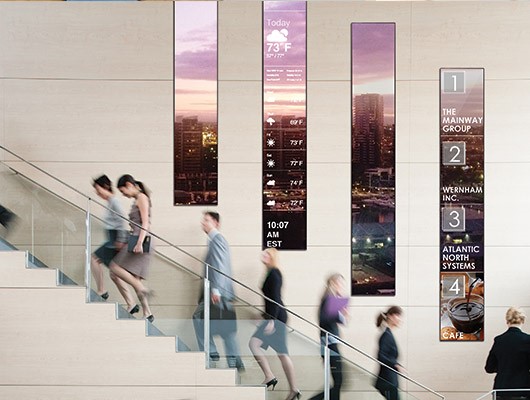 A very unique digital signage option that is gaining popularity is the ultra stretch display by LG. This is the ideal solution to provide weather forecast, welcome greetings, and the time of day in a lobby. It's long and narrow shape and design is eye-catching and gives a "WOW" factor. It can be mounted horizontally or vertically. Retail stores can use ultra stretch displays to show life size models wearing their latest fashion designs. And the food service market uses these displays for showcasing their menu when wall space is limited.
As well as the benefits mentioned above, these AV systems can be easily updated, so you can advertise a new promotion or display a different menu with just a few clicks, which is ideal if your content is time-sensitive. However, an expert audio video system design will also save your company money in the long-run by reducing administrative and print costs.
Trust BCS with all your AV system design needs
To find out more about the audiovisual system design solutions we offer, or to see a demonstration on an interactive digital board, video wall, or ultrastretch display, give us a call today on +1 (949)-333-1020. Our team will be happy to discuss the benefits of these systems in more detail to help you decide on the right solution for your requirements.