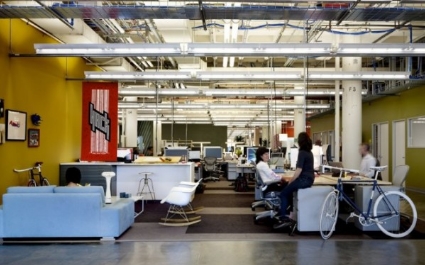 Last month we started to explore how email, video conferencing, and document collaboration have changed the workplace.
So let's look at a few more ways that technology has drastically changed the workplace in the 21st century and beyond.
Instant Messaging
It's hard to believe that when instant messaging began its popularity during the early days of the Internet that here we would be in 2016 discussing its use in the workplace.
But there's a unique convenience to instant messaging that you won't find elsewhere, the ability to indicate whether you are available or not. This means that you aren't wasting time waiting for a response from a coworker who may be busy or not even in the office.
It also helps to improve customer service by allowing real-time communication between employees and customers. And if the issue needs to be escalated to superiors, instant messaging allows them to do so without leaving their current work.
Instant messaging is also a quick and easy way to get a group consensus on an issue. Taking advantage of the "instant" part of the technology, you can simply ask a question and get a decision made, instead of having to wait for the email responses to trickle back in.
File Sharing
Long gone are the days of filing cabinets or even files in subfolders of subfolders.With file sharing sites like Google Drive and Dropbox, you eliminate the need to search for files in complex and confusing shared hard drives. It also allows employees to access files from whatever devices they choose, from wherever they choose.
Automatic backup is another great feature. You don't have to worry about scheduling IT backups, thus freeing your IT department up to perform other essential tasks.
File sharing is a great way to save precious office space, too, since it eliminates the need for a separate room or space for servers.
But perhaps the greatest impact is on your business' bottom-line, including reduced cost of purchasing infrastructure and scalability.
Workplace Mobility
The common thread that ties together everything we've discussed the idea of workplace mobility.
Citrix found that as of June 2015, over 60% of workers report working out of the office at least part-time.
The great thing is that workplace mobility affords employees the opportunity to work when they feel most productive.
Some people aren't morning people and may spend the first few work hours sitting around waiting for their coffee to kick in, most often on company time.
Others may find that working at 9 or 10 pm puts them in a better mindset and allows them to put their focus where they need it most.
It's truly amazing the changes technology has provided the workplace. A Pew Research Center study even found that 46% of those surveyed felt more productive because of advancements, like email, cell phones, and the internet.
What will be even more interesting is to see what changes technology will bring about in the future.
Do you have any predictions or ideas for how technology will change the workplace in the next 10-15 years?
Look into your crystal ball and let us know below.