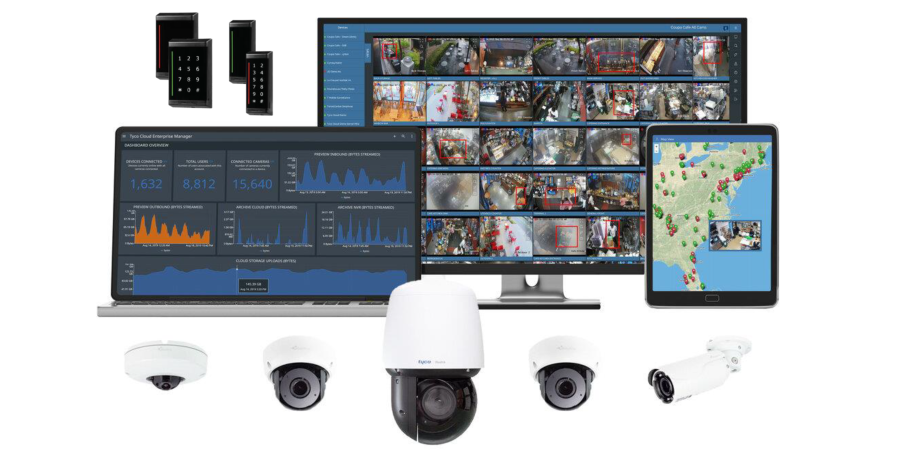 Why Should You Get a Cloud-Based Security System?
If you are opening up new office, starting a new business, or looking to upgrade your current system, you should consider a cloud-based security system, like Tyco Cloud.
Successful business models are constantly evolving to stay competitive. Businesses that adapt to new innovative technologies will be more likely to succeed. The pandemic has forced many IT professionals and business owners to work remotely, which means cloud-based systems to operate a business are going to be the way of the future.
With fewer IT and Security managers working on-site in order to reduce the risk of spreading COVID-19, business owners and CTO's are finding that having access to a security system platform from home, or other site locations, is a must. A cloud-based security platform makes this possible!
Benefits of Cloud Video Surveillance
The reasons why businesses should migrate to cloud video surveillance are very straightforward. Here are the Top 5 reasons:
Securely access any number of remote locations for monitoring and management from a single login
Reduce IT staff needs at remote locations and HQ location
Increase cybersecurity protection by not having to open ports in a firewall or port forward through a router
Ease of implementation by having a 100% browser-based solution. No need to load and manage software clients on employees' computers around the country
Ability to add/remove/change/customize user permissions remotely
Simplify Physical Security with Cloud
A security system from Tyco Cloud lets allows you to reduce the amount of required equipment, and therefore, reduces the upfront expenses and upkeep as well.
Single cloud-based physical security management suite from Johnson Controls
Delivery of video surveillance, access control, and intelligence, with end-to-end cyber security
Provides cost-efficiency of software as a service (SaaS) with simplicity of secure cloud connected hardware
Reduces costly and complex traditional on-premises system infrastructure, as no NVRs and mass storage are required
Simplify security, reduce cost, scale on demand
Traditional video architecture requires a network video recorder and mass storage, but with a Tyco Cloud architecture, all that is needed is a PoE switch and router with access to the internet. This is a huge advantage when starting a new business and/or opening a new office! Reducing the equipment costs and the need for on-site storage servers and having a solution that is easy to scale on demand is something for business owners to definitely keep in mind!
Is a Cloud-Based Security System Right for Your Business?
If you would like to be able to access and manage your security platform from anywhere, have your video content safely secured in the cloud, easily scale up as your business grows, and have secured and encrypted security from Johnson Controls, then Tyco Cloud is the right solution for your business.
If you would like to talk to learn more, take the first step and contact BCS Consultants today for a free quote.