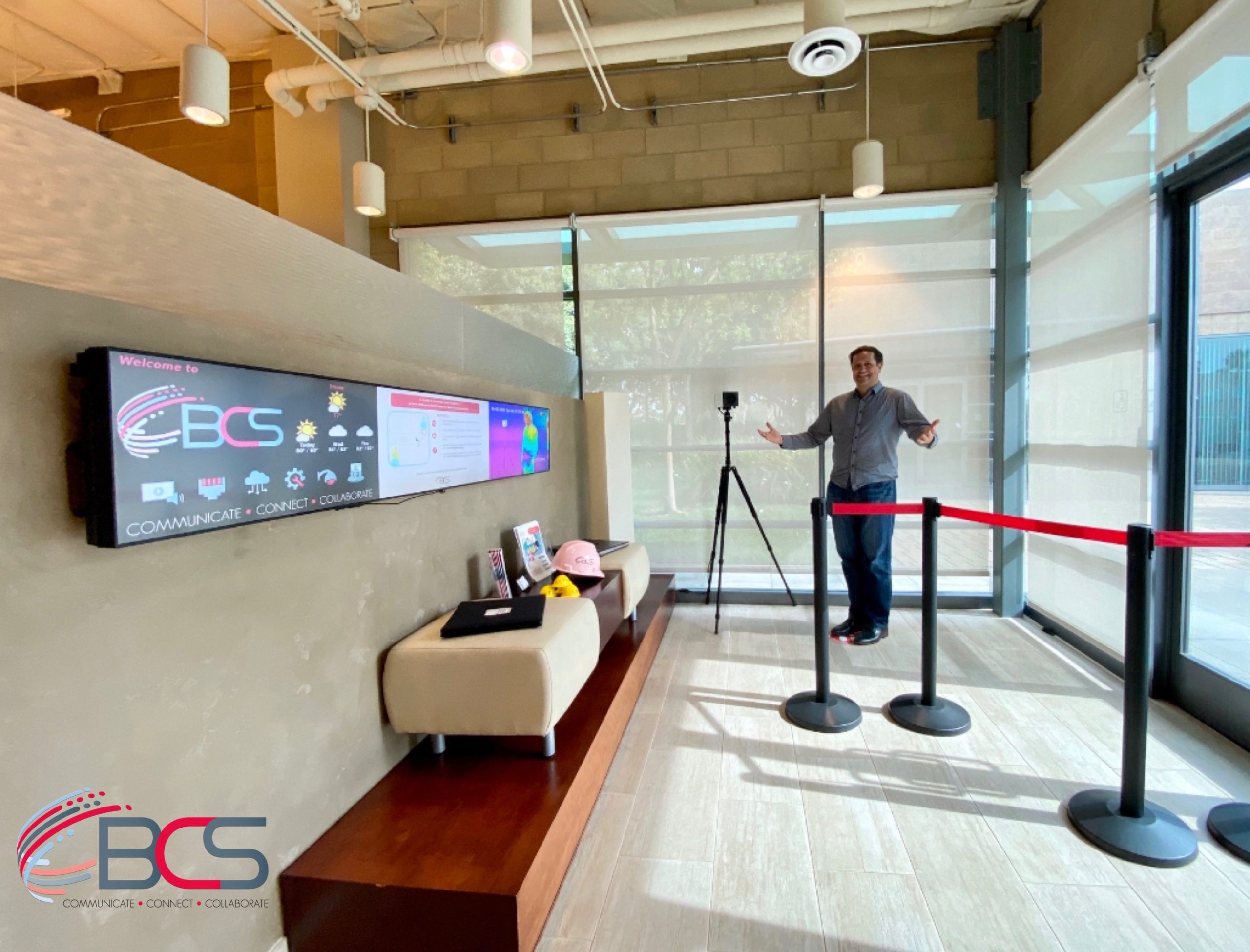 How can businesses automate temperature screening?
Now that temperature screening has become the new business normal and requirement, we are seeing a lot of new options to screen for body temperature. But the majority of these options rely on personnel or visitors to carry out this requirement themselves.
On a busy day, no one wants to stand in line to wait their turn to get their temperature taken. Also, passing around a handheld forehead thermometer only increases the risk of spreading the coronavirus.
With the placement of a thermal camera solution in a lobby or at any building entrance, all people who enter a temperature screening station will automatically get their temperature checked. Business owners, CEO's, HR directors, and safety officers need to know that the companies they represent are being fully compliant 100% of the time to screen for elevated body temperatures. An automated temperature detecting solution comprising of a thermal camera will meet this need and ensure their compliance to help prevent the spread of COVID-19.  The best part of all, no one has to touch anything, so this solution is extra safe!
The Benefits of Thermal Cameras to Screen for Elevated Body Temperatures
With the nationwide requirement for businesses to conduct temperature screening upon entry and at the start of employee shifts as a result of the COVID-19 pandemic, thermal cameras that detect human skin-surface temperature make it possible to automate this process! Rather than putting an employee's health at risk to do the temperature screening manually with a handheld forehead thermometer, companies may opt to use a bi-spectrum thermographic camera with AI technology instead.
The benefits of thermal camera technology are worth noting:
Convenient, one-second walk-through temperature screening without having to stop
Safe, non-contact and non-touch temperature measurement
Eliminates the need to hire an employee to be a temperature screener
Employees can focus on their regular tasks
Real-time audio and visual alarms notify personnel of elevated temperatures
Automatically stores data and images when subject exhibits an elevated temperature
Facilitates contact tracing efforts
Businesses ensure they are compliant with temperature screening guidelines
Installation Options
There are several options for how you can install a thermal camera solution. The three main options are:
Wall mount
Tripod standing mount
Mobile setup
A wall mount set up is great if the space you are working with has a wall you can mount a camera to. Not every space will be able to do this. If your lobby is full of glass, you may want a tripod setup instead. If your business may need to change the location of it's temperature screening station, a mobile setup will be ideal.
Hoe do you know if temperature screening automation right for you?
Is protecting the health and safety of your staff, clients and visitors important to you?
Are you looking for a more efficient and less time-consuming process to screen body temperature?
Do you want to make contact tracing easier with automatically recorded elevated temperature data?
If the answer is "Yes" to either question, then a thermal camera is the ideal solution for you.
If you are worried about the cost, you will probably be surprised to find out how affordable this automated solution can be!
By eliminating the need to hire staff to stand at the front door with a thermometer, a thermal camera solution will give you the ROI you're looking for! Call BCS Consultants at 949-333-1020 for a FREE quote.