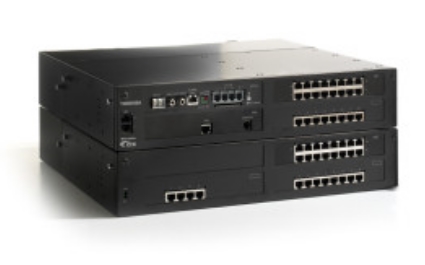 Toshiba's Strata CIX IP systems are one of the most efficient IP business telephone systems in the world and they are being fast adopted by companies that want to boost their communication systems. It offers a wide range of call processing options that facilitates better control features and convenience for enhancing the productivity and running a business more efficiently. The best thing is that the system is extremely user friendly with an easy-to-use interface.
Benefits of Strata CIX IP systems include:
User Friendly – The LCD display is extremely clear and displays all the instructions along with voice mail control on the screen itself. If you use MyPhoneManager then the users are able to program the buttons and the other functions of the phone via any web browser.
Better Mobility Options – You will be able to stay in touch of your employees and customers, irrespective of your location. You will be in total control of the call flow and even define how the calls follow under different conditions. The smartphones can be used as office extensions but not revealing the cell number to any other third party.
If you decide to add Media Application server or IPedge Application server then the Strata CIX IP system can even support the value added application like automated speech recognition, unified messaging, fax integration, interactive voice response, voice mail, auto-attendant, text-to-speech, automatic call distribution and even integration with third party applications like sales force automation tools.
Easy Management – Your team is going to appreciate the advantages like quick online software upgrades, centralized management, wizard-based system set up etc. All this is going to make it easier to manage the system.
Toshiba's Strata CIX system comes with the unique feature wherein businesses of every size can switch to the IP telephony at their own pace. Thus, when you finally decide to migrate to the larger system or an IP system then you will be able to reuse the primary components. You will be able to enhance your on-premise Strata CIX system through integration with other server from Toshiba.
Integrate, Scale & Expand
You will be able to add one or multiple Strata CIX systems to the existing network. This integration will lead to a unified company network.
Strata CIX systems and Network IPedge can come together. Here the IPedge will be used in the sites that are larger and need more features and the Strata CIX system at sites that do not all the capabilities offered by IP systems.
You will be easily able to meet seasonal demands by using additional lines with VIPedge cloud telephony system. As most of these solutions are able to share the same applications and telephones so these are integrated with ease. Thus, you are able to get a lot of choices as the platforms are compatible.
Strata CIX Models
Click on each of the models below to get more details on the product.
About BCS Consultants
BCS Consultants offers complete range of products and services for networking and communications. In communication we offer on-premise systems from companies such as Toshiba, private cloud based IP, and public cloud based IP Phone systems.
Call us today on (949) 333-1020 for your networking or communication needs.